Impact of Community-Level Factors on HIV Prevention Outcomes
HC3's second HIV expert consultation, focusing on community-level factors (CLFs) and their impact on HIV prevention outcomes, was held November 20th in Johannesburg, South Africa. 
Participants came from around Africa and the US, with representation from Cameroon, Tanzania, Uganda, Malawi, Zimbabwe, Zambia, Swaziland, Mozambique, South Africa and the United States.
The consultation's goal was to examine the evidence, identify strengths as well as gaps and provide recommendations on the role of CLFs and their impact on HIV outcomes related to prevention, as well as uptake of services and linkages to care and support.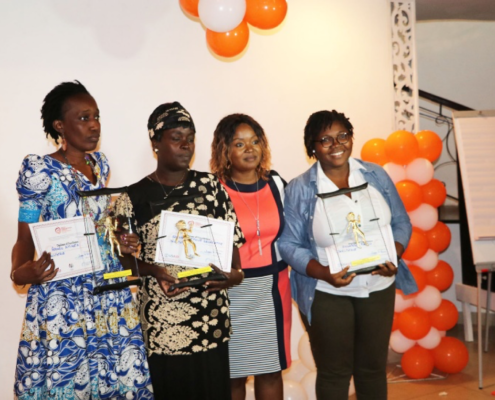 https://healthcommcapacity.org/wp-content/uploads/2017/09/CDI-1.png
838
1257
Benjamin K. Soro | HC3 Côte d'Ivoire Media and Communication Officer
https://healthcommcapacity.org/wp-content/uploads/2014/04/HC3logo285px.jpg
Benjamin K. Soro | HC3 Côte d'Ivoire Media and Communication Officer
2017-09-05 12:09:53
2017-09-05 12:09:53
HC3 Côte d'Ivoire and Partners Celebrate their Successes
https://healthcommcapacity.org/wp-content/uploads/2017/05/hivhcframeworkfeatured.png
628
753
Beth Mallalieu | HC3 Program Officer
https://healthcommcapacity.org/wp-content/uploads/2014/04/HC3logo285px.jpg
Beth Mallalieu | HC3 Program Officer
2017-05-10 14:53:32
2017-05-10 14:53:32
Updates to HC3's Strategic Communication Framework for Hormonal Contraceptive Methods and Potential HIV Related Risks
https://healthcommcapacity.org/wp-content/uploads/2017/04/26fdda21-d5d1-450b-8fcd-5505f7e1034c.jpg
768
1024
Beth Mallalieu | HC3 Program Officer
https://healthcommcapacity.org/wp-content/uploads/2014/04/HC3logo285px.jpg
Beth Mallalieu | HC3 Program Officer
2017-04-20 14:23:40
2017-04-20 14:41:43
Working within Traditional Leadership Structures; Discussion April 25-27 on Springboard for Health Communication
https://healthcommcapacity.org/wp-content/uploads/2017/04/supergocotedivoiregirl.png
500
600
Benjamin K. Soro | HC3 Côte d'Ivoire Media and Communication Officer
https://healthcommcapacity.org/wp-content/uploads/2014/04/HC3logo285px.jpg
Benjamin K. Soro | HC3 Côte d'Ivoire Media and Communication Officer
2017-04-17 10:29:11
2017-04-17 10:29:11
J'etais Sur le Point D'arreter D'utiliser le Preservatif
https://healthcommcapacity.org/wp-content/uploads/2017/04/supergocotedivoiregirl.png
500
600
Benjamin K. Soro | HC3 Côte d'Ivoire Media and Communication Officer
https://healthcommcapacity.org/wp-content/uploads/2014/04/HC3logo285px.jpg
Benjamin K. Soro | HC3 Côte d'Ivoire Media and Communication Officer
2017-04-17 10:27:12
2017-04-17 10:27:12
I Was About to Stop Using Condoms
https://healthcommcapacity.org/wp-content/uploads/2017/04/supergo600x500.png
500
600
Benjamin K. Soro | HC3 Côte d'Ivoire Media and Communication Officer
https://healthcommcapacity.org/wp-content/uploads/2014/04/HC3logo285px.jpg
Benjamin K. Soro | HC3 Côte d'Ivoire Media and Communication Officer
2017-04-11 15:43:25
2017-04-13 10:25:34
When Boyfriends are Brought into the HIV Conversation
https://healthcommcapacity.org/wp-content/uploads/2017/04/supergo600x500.png
500
600
Benjamin K. Soro | HC3 Côte d'Ivoire Media and Communication Officer
https://healthcommcapacity.org/wp-content/uploads/2014/04/HC3logo285px.jpg
Benjamin K. Soro | HC3 Côte d'Ivoire Media and Communication Officer
2017-04-11 15:40:09
2017-04-12 14:36:53
Participation des petits amis des participantes de Super Go à la 4ème Session
https://healthcommcapacity.org/wp-content/uploads/2017/03/shugablog600x500.png
514
600
Susan Leibtag | HC3 Communications Specialist
https://healthcommcapacity.org/wp-content/uploads/2014/04/HC3logo285px.jpg
Susan Leibtag | HC3 Communications Specialist
2017-03-29 09:00:42
2017-04-21 09:10:23
Sex, Love and HIV: MTV's Huge TV Hit "Shuga" Hits South Africa
https://healthcommcapacity.org/wp-content/uploads/2017/03/blogimage.jpg
400
600
Beth Mallalieu | HC3 Program Officer
https://healthcommcapacity.org/wp-content/uploads/2014/04/HC3logo285px.jpg
Beth Mallalieu | HC3 Program Officer
2017-03-15 13:59:56
2017-03-15 14:03:08
New Multimedia-Rich Resource Details HC3's Work to Mitigate HIV Epidemic in Swaziland