Smart Couple Television Spots
In Nepal, HC3 strengthened the institutional and technical capacity of the National Health Education Information Communication Centre (NHEICC) within the Ministry of Health and Population to design, implement and evaluate social and behavior change and communication (SBCC) programs for family planning.
Background
Despite the many barriers to access health services in Nepal, the government has made considerable progress in improving the reproductive health of its people over the last two decades. There has been substantial progress in reducing maternal mortality, under-five mortality and the total fertility rate. Yet despite these gains, Nepal's progress on Millennium Development Goal 5(b) – universal access to reproductive health, as measured by the contraceptive prevalence rate (CPR), and by the level of unmet need for family planning – has slowed in recent years. This lag takes a high toll on women's and children's health and affects the life plans and dreams of young couples nationwide.
The numbers are large – fully 56 percent of Nepal's adult women, aged 15-49, are below 30 years old. Health research shows that only 12 percent of young married couples are using Family Planning (FP) to delay the first birth, fewer than 32 percent adopt FP to have birth-space between their first and second child and fewer than 13 percent are using FP within 2 months after delivery. At the same time, special needs groups including marginalized communities and migrants need to be addressed as well.
Project Overview
The Nepal HC3 Project was four-year, $5-million project that focused on youth, adolescents, migrants and marginalized and disadvantaged groups. The national-level project worked closely with the NHEICC, which is in charge of national SBCC efforts and the Family Health Division (FHD), to support comprehensive, targeted SBCC campaigns and advocacy among these groups. Nepal HC3 also developed the overall institutional and technical capacity of NHEICC with the ultimate goal of improving reproductive health outcomes in Nepal.
Strategic Objectives
Increase modern contraceptive use among '1000-day Couples,' or young, low-parity women and men, specifically:

Increase age of first birth
Improve timing of FP use after delivery
Increase optimal birth-spacing practices
Increase long-term method use

Reduce unmet need among marginalized and disadvantaged groups (MDAGs)
Improve contraceptive use dynamics among migrants (timing of initiation, discontinuation)
Overarching National Umbrella Campaign
National level orientation, coordination and advocacy among policy makers
FP Communication Strategy development led by the NHEICC
Harmonization of existing and new messages among partners
Umbrella campaign and media and materials development
Sustainable planning and management of interpersonal communication and counselling print materials
Evaluation of FP/Reproductive Health social and behavioral change and communication
Youth, Adolescent, Migrants, Marginalized and Disadvantaged Groups (MDAGs) Extension Campaigns
Design, implement and evaluate the extension of SBCC campaigns for youth, adolescents, migrants and MDAGs, with special focus on greatest unmet need for FP
Collect and analyze existing BCC materials, media and methods
Develop a communication tools package
Conceptualize, test and roll out the innovative media and SBCC approaches
Strengthening Institutional and Technical Capacity for NHEICC, FHD and Partners
Collaboration and coordination with NHEICC, FHD and other stakeholders
Establish a baseline for capacity strengthening with the NHEICC by applying a SBCC capacity strengthening assessment tool
Assess and help NHEICC to train, monitor and mentor 240 new constituency-level health inspectors
Explore the incorporation of health promotion components into an Masters in Public Health course
Comprehensive capacity strengthening for NHEICC and partners using a mixture of applied learning, mentoring, formal training, and strengthening of existing and new institutional systems
Action plan and target milestones development based on the assessment
Key Results
The Nepal HC3 Project launched an aspirational and pragmatic campaign that repositioned FP for the next generation and, thereby, increase FP use among young married couples across the country. It has also broadcasted multiple campaign advertisements under the campaign slogan "Parivar Niyojan Smart Banchha Jeewan" (family planning makes a smart life). Television spots can be seen to the left. Other campaign activities included:
Maximizing contacts among eligible couples (newlyweds and 1000-day couples) through skilled referral agents (FCHVs and Peer Educators)
Increasing referrals from community to "Hamro Swasthya Kendra" (Our Health Center)
Enhancing Quality of Counseling (IPC-C) and FP services provided by health workers at "Hamro Swasthya Kendra"
Systematically contacting and referring "1000-Day" couples through:

Expanded immunization/outreach clinics program
Mothers group meeting
Household visits

Improving IPC-Counseling at Hamro Swasthya Kendra (Health Facilitates)
Promoting FP service through family planning camps and LARC availability
Planning regional, large-scale "Smart Couple" PR and celebration events (Fairs/Melas)
Street dramas, community school programs (among MDAGs)
Local FM radio airing of "Smart Couple" campaign spots, Radio Help Desk
Managed an active social media campaign that included a couple-focused "Smart Dampati" contest on Facebook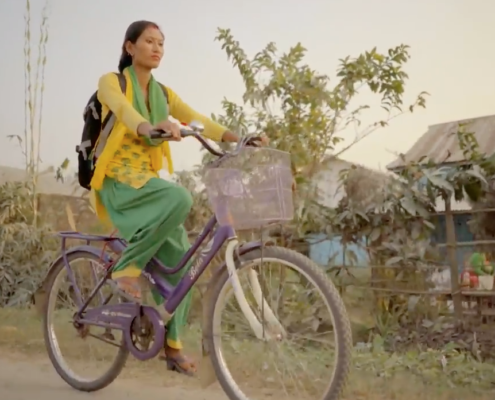 https://healthcommcapacity.org/wp-content/uploads/2017/08/^0DA30E33A5806B1619E0642F2F9EA50A66D2451D07E772FDE0^pimgpsh_fullsize_distr.png
718
862
Marla Shaivitz | Digital Communications Manager, HC3
https://healthcommcapacity.org/wp-content/uploads/2014/04/HC3logo285px.jpg
Marla Shaivitz | Digital Communications Manager, HC3
2017-08-30 10:54:21
2017-08-30 10:54:21
Entering the Conversation of Young Couples Talking About Life Goals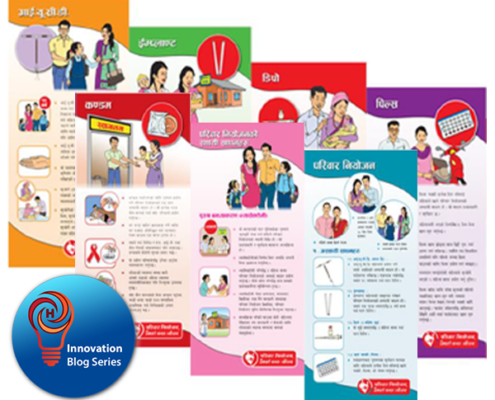 https://healthcommcapacity.org/wp-content/uploads/2017/07/hc3-nepal-innovation-blog-series.png
500
600
Caroline Jacoby | Senior Program Officer | Johns Hopkins Center for Communication Programs
https://healthcommcapacity.org/wp-content/uploads/2014/04/HC3logo285px.jpg
Caroline Jacoby | Senior Program Officer | Johns Hopkins Center for Communication Programs
2017-07-07 14:56:54
2017-07-13 06:01:39
Making Smart Choices Easy: Incorporating Behavioral Economics into a National Campaign in Nepal
https://healthcommcapacity.org/wp-content/uploads/2017/05/flameaward2017.png
500
600
Marla Shaivitz | Digital Communications Manager, HC3
https://healthcommcapacity.org/wp-content/uploads/2014/04/HC3logo285px.jpg
Marla Shaivitz | Digital Communications Manager, HC3
2017-05-03 10:22:57
2017-05-03 22:14:53
Nepal's Smart Jeewan Campaign Wins Prestigious Rural Marketing Association of India Award
https://healthcommcapacity.org/wp-content/uploads/2017/03/phectNepalMeroLagi.png
500
600
Marla Shaivitz | Digital Communications Manager, HC3
https://healthcommcapacity.org/wp-content/uploads/2014/04/HC3logo285px.jpg
Marla Shaivitz | Digital Communications Manager, HC3
2017-04-17 11:43:51
2017-05-02 16:01:00
Mobile App in Nepal Helps Adolescents Access Credible Information on Sexual and Reproductive Health
https://healthcommcapacity.org/wp-content/uploads/2017/02/nepal1.png
500
600
Marla Shaivitz | Digital Communications Manager, HC3
https://healthcommcapacity.org/wp-content/uploads/2014/04/HC3logo285px.jpg
Marla Shaivitz | Digital Communications Manager, HC3
2017-02-08 09:08:12
2017-02-08 09:08:12
Smart Jeewan Family Planning Messages Reach over 30,000 at Nepalese Fair
https://healthcommcapacity.org/wp-content/uploads/2016/12/nepal.png
484
726
Kim Martin | HC3 Communications Director
https://healthcommcapacity.org/wp-content/uploads/2014/04/HC3logo285px.jpg
Kim Martin | HC3 Communications Director
2016-12-14 13:00:42
2016-12-14 15:03:38
Making Smart the New Norm for Married Couples in Nepal
https://healthcommcapacity.org/wp-content/uploads/2016/09/nepalspringboardevevent.png
400
600
Jenna Groman | Program Manager | NetHope
https://healthcommcapacity.org/wp-content/uploads/2014/04/HC3logo285px.jpg
Jenna Groman | Program Manager | NetHope
2016-09-21 16:40:20
2016-09-21 16:40:20
HC3 Nepal Learning Forum on Networking
https://healthcommcapacity.org/wp-content/uploads/2015/08/nepalfpcampaignlaunch.jpg
309
467
Marla Shaivitz | Digital Communications Manager, HC3
https://healthcommcapacity.org/wp-content/uploads/2014/04/HC3logo285px.jpg
Marla Shaivitz | Digital Communications Manager, HC3
2015-09-02 08:00:24
2017-02-10 10:21:18
'Family Planning Makes a "Smart" Life' Campaign Launched in Nepal